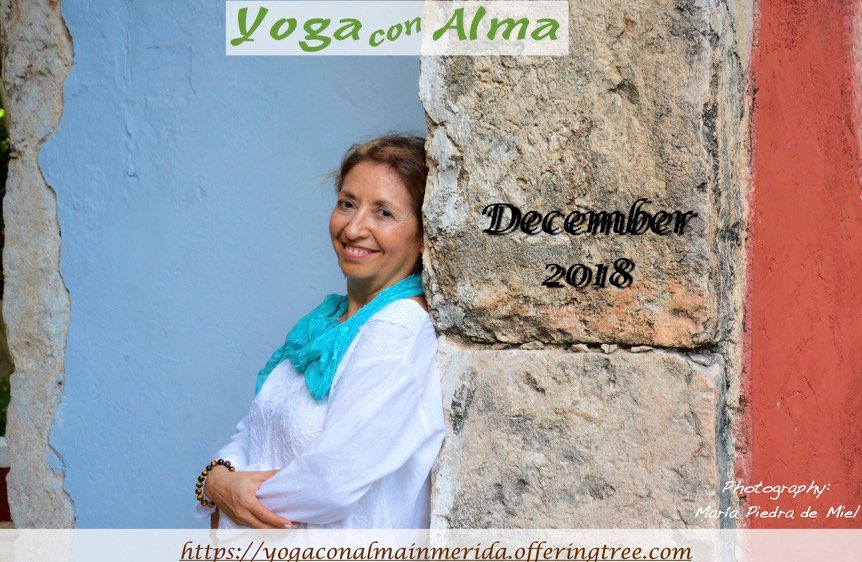 Hello dear Yogis and Yoginis:
Here is all you need to know about upcoming
YOGA CON ALMA
offerings for December.
As you read this I will be immerse in an advanced 30-hour training program in Mexico City with Jivana Heymann, the founder of ACCESIBLE YOGA. After briefly visiting family and friends, I hope to offer a free workshop to the USA-Mexico border, which intention is to help young students to cope with the stress of living in that conflicting area.
RegularYOGA CON ALMAclasses in Mérida will restart on Tuesday, December 11th. Although SOL Y TIERRA Yoga Studio will be closing a few days at the end of December, during the holidays I will only offer one group lesson per week, if at least six people register in advanced. This will be MORNING GLOW YOGA, Thursdays, 8:15 AM @ Café Montejo. Please reserve your spot through my website.
During this Holiday Season let yoga help you find your balance. Enjoy a delicious PRANA-RESTORATIVE YOGA class (English/Spanish) and/or join me for a heart opening experience: YOGA NIDRA on HO'OPONOPONO. This last event is especially significant, given that it fosters forgiveness and gratitude while allowing us to move forward in life with more lightness.
Do you still have a few Christmas-Hanukkah-Kwanzaa presents pending? Give the gif of YOGA CON ALMA. Choose between a yoga-open class passes for MORNING GLOW YOGA or (semi) private instruction. The private individualized offer can include traditional Yoga Asana practice, Therapeutic Yoga, Sivananda Yoga, Restorative Yoga, Yoga Nidra, Yin Yoga, Personal Yoga Practice Design, and/or Mindfulness. I can tailor a program according to the specific needs of the individuals. Please inquire!
About the very popular YOGA FOR SNOWBIRDS sessions in the beautiful SOL Y TIERRA YOGA STUDIO, in Mérida: we will restart January 7th. The classes will be held on Mondays, 9:30-11:00 AM. Space is limited: You can already pre-register through my website.
One more nice thing to report: registration for the YOGA AND THE ART OF CHOOSING RETREAT, that will take place form the 17thto the 20thof January is going really well. Only a few spots are still available. Please keep in mind that the early bird rate is only valid until December 7th. If you wish to receive more information about this YOGA-ANTHROPOLOGY-WELLNESS RETREAT please request it today: https://yogaconalmainmerida.offeringtree.com/schedule/1a9a58fc-34ed-48bc-8b96-9d6bb12d7b1a_1547751600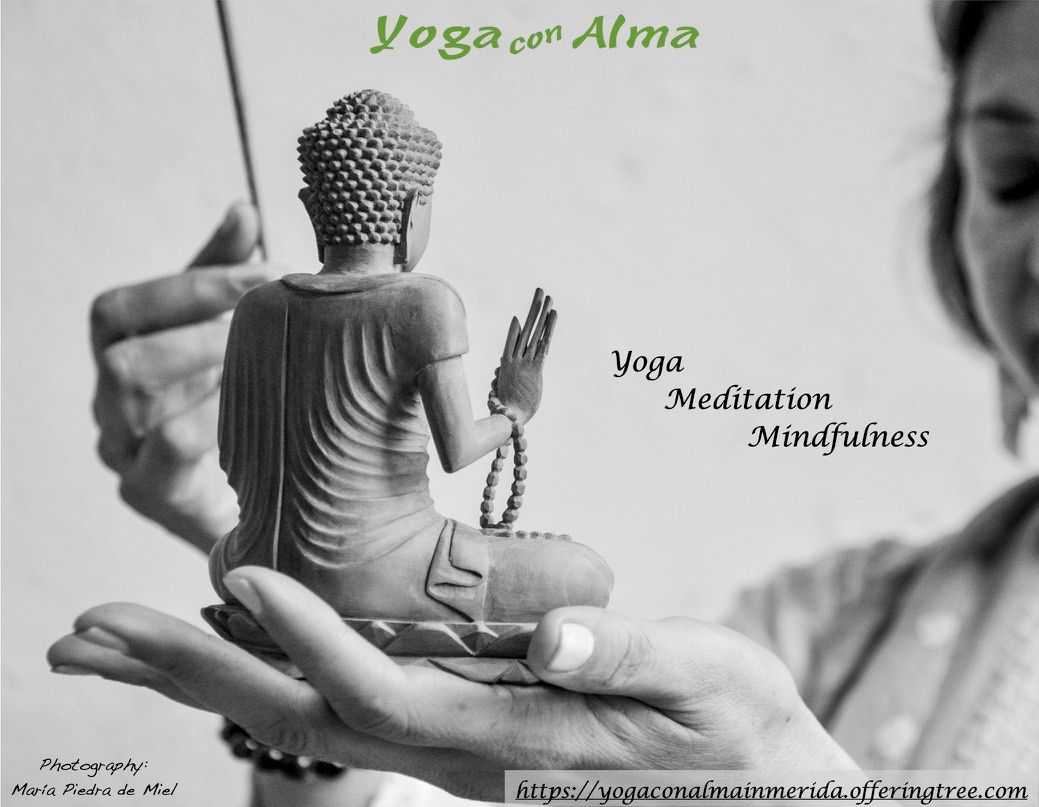 And here YOGA CON ALMAscheduled group classes during December:
Thursdays, 8:15-9:45 @ Café Montejo
MORNING GLOW YOGA (En)
ONLY with prior registration through my website - closes on Wednesdays at noon.
Tuesdays + Thursdays, 18:30-19:45 @ Sol y Tierra Yoga
YOGA PARA TU BIENESTAR (Sp)
From December 11th until December 20th
Monday 17th of December, 18:00-19:30 @ Sol y Tierra Yoga
PRANA RESTORATIVE YOGA (En+Sp)
Friday 21st of December, 18:30-19:45 @ Sol y Tierra Yoga
YOGA NIDRA on HO'OPONOPONO (English)
Starting Monday, January 7th, 9:30-11:00 @ Sol y Tierra Yoga - YOGA FOR SNOWBIRDS
January 17th to 20th, YOGA AND THE ART OF CHOOSING
A Yoga-Anthropology-Wellness Retreat in the Puuc
Wednesday February 6th, 19:00 PM @MEL
Lecture:Yoga as a Transnational Product. Spirituality, extreme sport or the perfection of the self?
For more details about the classes and other forthcoming events, please remember to visit my website https://yogaconalmainmerida.offeringtree.com
I sincerely thank you for your interest in YOGA CON ALMA. Please don't forget to add yoga_con_alma@outlook.comto your address book.
If you no longer wish to receive my e-mails, please send me an e-mail with the word unsubscribe.
All good wishes,
Alma